Santa & Claus: Red Alert
Build a base to deliver toys and christmas trees to cities before morning comes.

This is our entry for the YogscastGameJam 2019.

Our game incorporates the theme "giving" by giving you a combination of "Command & Conquer", "Yogscast" and "Christmas" as well as giving you some great Yogscast memes.

Oh, and you have to play Santa to give out some sweet merch and present to the world.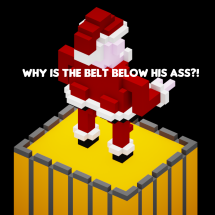 We kinda added the following modifiers:
Xephos and Honeydew Modifier - Dig up that dough to make some cookies.

Caveblazers Modifier - The game has infinite levels, but once you lose you land back in Area 1. Sorry!
Have fun playing! We hope you enjoy it.
Feel free to leave your feedback down in the comments

and don't forget to rate our YogscastGameJam submission.

About Us:
We are Fire Sword Studios a two man indie studio from Austria.
XmmmX was the lead on programming the entire game and I (SpeedyBrain) made the voxel art and supported XmmmX after that.
If you enjoy this game, maybe you will also enjoy what we're currently working on:
The Perfect Tower II is a mix between an incremental and a tower defense game with idle elements.

Download
Click download now to get access to the following files:
Santa & Claus - GameJam Version
36 MB